FRAMECAD Code Compliant in over 120 Countries
The system we use, FRAMECAD, is a safe and easy system to specify for cold-formed steel, otherwise known as light gauge steel.
We are your experts in light gauge steel construction, we aim to assist our customers and those constructing with our FRAMECAD system with all of the relevant information required to quickly and easily construct LGS buildings.
From help with specification or providing sub-assembly guidance, we are here to support you through the construction process. Below are some details to help with your next project.
Roofing
The FRAMECAD roofing sub assemblies utilize quality building materials and are designed to offer high-quality roofing systems.
Trusses & Roof Types
The system can be used to manufacture a range of trusses which in turn create a variety of different roof types.
Framing
The system can produce frames to suit a large range of building designs.
Flooring
The FRAMECAD flooring systems use cold-formed steel joists in combination with quality building materials to produce a rapid and durable flooring system.
External Walls
It has a customised range of external wall assemblies for use in a variety of applications.
Internal Walls & Ceilings
The FRAMECAD system can produce frames to suit a large range of building designs.
Achieve accelerated delivery of cold-formed steel (CFS) construction with automated engineering and detailing software that integrates with our world-leading factory control software and advanced roll-forming manufacturing equipment.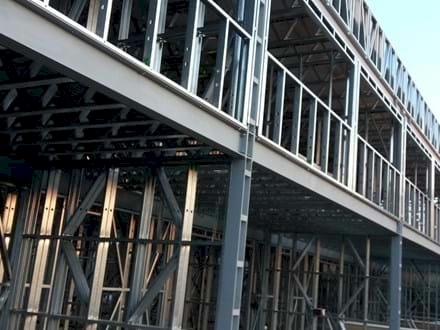 Better Solutions with FRAMECAD

The team at Steel Frame Solutions have been working with builders, developers, architects and specifiers to deliver cold-formed steel solutions that reduce project timelines and improve productivity.
Rapid construction, the smart way. The FRAMECAD System delivers large scale cold-formed steel (CFS) construction projects faster with its advanced steel framing automated process.
Find out how Steel Frame Solutions can help your business.  Contact us today.
We're social, follow us on Facebook, Instagram, LinkedIn and Twitter.